Half Marathon
The 34th running of this iconic Canberra running event, which was to have been held on 15 March 2020, was conducted on 18th October instead in perfect weather albeit rain and wind had been forecast. It is an undulating and challenging course, all run on bike paths, with no road crossovers, thus it is a safe and extremely scenic course with views over Lake Burley Griffin for most of it.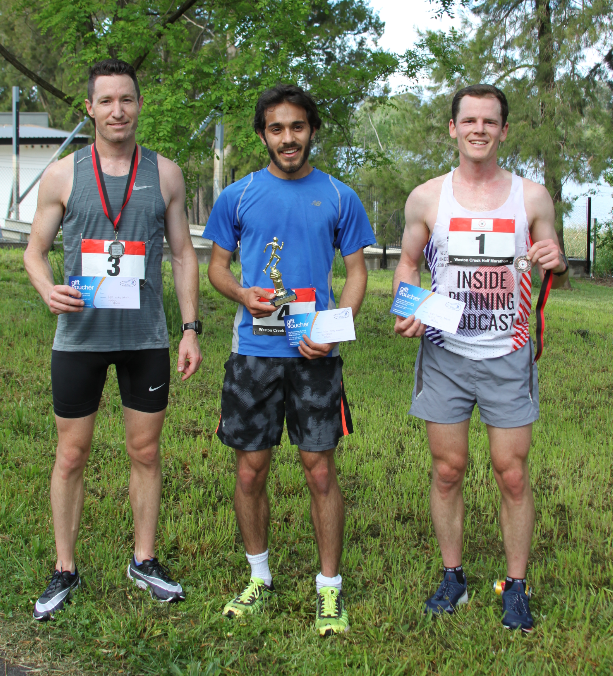 2020 promised to have participant numbers approaching our glory years with some 260 individuals and five relay teams registered to run on 15 March. However, Covid 19 intervened and we postponed the event (at the last minute with apologies) by six months hoping that the virus would go away by then. It hasn't and it plagues us still. We needed to get an Exemption from the ACT Chief Medical Officer to run the event on 18th October and this was achieved at short notice. During the last few weeks before the event some 35 individuals transferred their 2020 entry to the 2021 event as they were either in lockdown interstate, injured, or were reluctant to participate due to the virus. As it was, on the day, 71 runners failed to collect their bib and did not run. These missing runners were offered a place in the 2021 event should they wish it by notifying me by the 30th October. Twelve half marathon runners took advantage of that offer.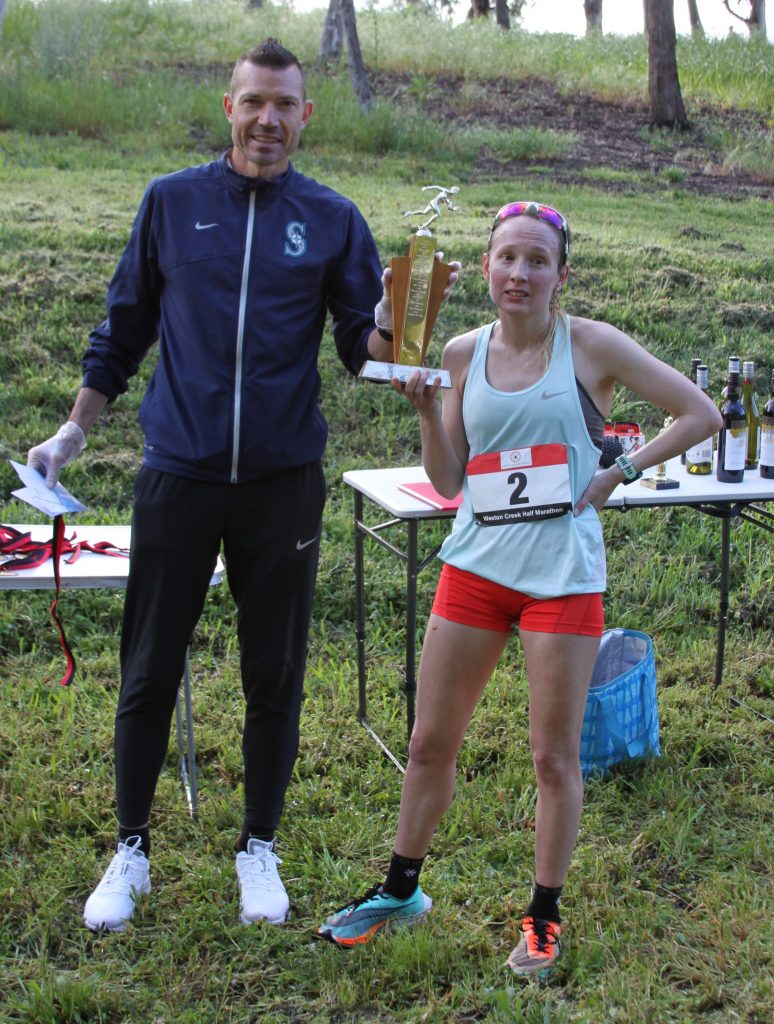 For the second time in the event's illustrious and long history we used electronic timing, which allowed the results to be uploaded so much more quickly and reduced the need for a number of volunteers. We provided engraved Canberra Redbacks medals for the second and third runners in the half marathon and for the each of the 10 year age group winners.  The male and female winners of the half marathon got to hold the perpetual trophy for a little while and a photo opportunity and then returned it for safe keeping and to have their names engraved on it.  They each received an engraved 'keepsake' trophy.




Overall Results
1st Place Daniel Carson 1.16.40 Claire Ashworth 1.21.03
2nd Place Liam Ryan 1.17.30 Elizabeth Humphries 1.25.40
3rd Place David Turner 1.17.36 Kristy Lee Zwickert 1.32.15
Age Group Results
M <20 Rohan O'Grady 1.26.17
M 20-29 Daniel Carson 1.16.40 David Turner 1.17.36
M 30-39 Liam Ryan 1.17.30 Kai Everest 1.19.28
M 40-49 Aston Duncan 1.21.41 David Hughes 1.21.58
M 50-59 Andrew Tully 1.21.23 Jeff Grey 1.23.24
M60-69 Peter Clarke 1.41.03 Chris Gammon 1.42.46
M 70-79 Michael Wilson 2.12.19
F 20-29 Amanda Miller 1.49.14 Lili Mooney 1.52.39
F 30-39 Claire Ashworth 1.21.03 Elizabeth Humphries 1.25.40
F 40-49 Kerry Smith 1.35.43 Kim Wilmshurst 1.36.56
F 50-59 Sheba Mugambi 1.49.47 Fleur Paterson 1.53.21
Relay Team Results
There were only four relay teams contesting the half marathon competition this year and the results were:
1. Afternoon Beers (501) 1:31:16
Bill Taylor, Tim McNamara, Trent Bastock
2. JT Multisport (502) 1:36:45
Ania Smarsz, Vicki Resch, Kim Cayzer
3. Simpfens1 (504) 1:51:24
Elizabeth Simpfendorfer, Peter Simpfendorfer
4. The Sheehans (505) 2:00:20
Anthony Sheehan, Monique Sheehan
10 Km Community Fun Run
A 10Km Community Fun Run event was introduced in 2018 to try and tap into the Park Run market. There were 64 runners registered this year, an increase over previous years. However, 27 runners failed to show up to collect their bib or run on the day, probably due to their concern about the Covid risk. These missing runners were offered a free transfer to the 2021 event if they wished and four registrants took advantage of that offer.
The full results can be found on the website but congratulations to the first three males and females:
1 Jacob Grooby 32:40 1 Belinda Harding 50.47
2 Jonathon Moore 37:04 2 Amanda Keast 51:31
3 Isaac Muscat 37.23 3 Grace Chapman 52:12
Next year we will be offering medals to the winners of the 10 year age categories, as we currently do for the half marathon, and increasing the number of barrel draw prizes, which have proved to be very popular.
Prologue
The event could not be run without the help of lots of volunteers and I thank all members of the Canberra Redbacks who assisted before and/or on the day, especially the Caley family. A special thanks also to Dr Martin Fryer and Club Life Member Michael Corlis for their e-timing work. Thanks to our commercial supporters: Nick Walshe of The Runners Shop; Reuben Caley of Sports Care and Physiotherapy; and Dennis Ogden of National Mail and Marketing who produced all of the promotional material.
Robbie Costmeyer