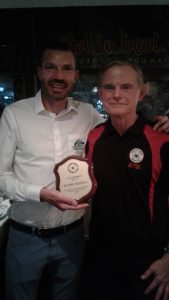 The highlight of this year's Dinner was the awarding of our 20th Life Membership to current president Philo Saunders. Jewel of India hosted our event this year and the service and food could not be faulted. The venue enabled speeches to be audible and a great time was had by all.
Eleven (11) Life Members were able to attend on the night, in no particular order – Vince Craig, Denis Wilson OAM, Paul Veldkamp, Martin Dent, Christine Pauling, Russell McGowan, Julie Fitch, Garry Hand (Patron of our Club), Mick Whybrow, Pat Fisher and myself and apologies were received from Life Members Ken Sweeney (in France), Dan Dawes and Reg Johnson (illness in their family), Paul Rake (Fathers' day celebration in Melbourne), Rick Harcher (resides interstate), Ken Eynon OAM (full time carer) and Ian Leves . Only one spouse was able to join us this year, Irena Costmeyer, a situation that must be improved upon next year.
We also welcomed WCAC committee members Rohan Lowry and Reuben Caley and their partners, Naomi and Ally respectively, with apologies from Newton and Keely Small and James Nipperess. Bryan and Miriam McCarthy and Carol and Laurie Robertson were a couple of regular attendees at our dinners.
Robbie welcomed all those present and made mention of all of the apologies. He then asked Garry Hand to make the presentation of the Life Membership plaque to Philo Saunders. Both he and Philo made excellent speeches to much applause.
Photographs of all those present were taken and accompany this short article.
Next year's Dinner will be held either north side or in Braddon.
Robbie Costmeyer
Life Member 13