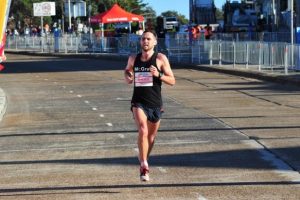 By James Nipperess
For the last 15 years I have been asked "So you're a runner, what time do you do the City 2 Surf in?". Having grown up in Sydney I came to realise the emphasis that the general public place on this mass participation extravaganza. For the record, I think at the elite end that the event isn't what it used to be. But I still feel that it is an iconic part of Sydney's culture and something I always wanted to tick off my running bucket-list. Either due to being overseas at the time of the race, or weighing up my injury risk as too high to run, I had never got the chance to test myself on the famous route from Hyde Park to Bondi- until last weekend.
I had solid lead up form, having placed 2nd at the Sutherland to Surf, and had set myself the goal of placing in the top 5. I sat on the back of the lead pack for the first 10 minutes and decided to sit with the chase pack when the first surge came around Double Bay. About half way through heart-break hill I realised just how tough the rest of my morning was going to be. I thought I had gone out conservatively at the time, but in hindsight I should have relaxed even more in the first half of the race to really roll down the hills as Deek had advised me when we had a chat on the start line.
I largely held my ground in the second half but feel it was somewhat of a missed opportunity for me to have really surprised myself with a quicker time. I really made myself suffer even though I wasn't moving as fast as I would have liked in the end. I ended up 4th place overall in 43:31 which I'm reasonably pleased with.
My mental notes for next time are: relax as much as possible until the top of heartbreak hill and run a few 160km+ weeks prior to the race.