I entered five events in the 2018 AMA Championships, which was probably one or two too many as I was tired and not as fast as I would have liked in any of the events, possibly mentally saving myself for subsequent races each time.
My first event was the 10,000m on the track on Thu 26th April. The M70+ group of 10 ran in conjunction with the Women's open division, thus saving time and giving each of us someone to run with. As usual I took off too fast and lead the field after 400m. Pretty soon I was passed by the faster women and as usual I progressively slowed as the lactic acid set in. My race plan had been to run with the Australian M70 record holder, Jim Langford, but he did not start the race even though he had entered. So much for my race plan! I managed to finish the race in a season's best time of 47:15:22 without any male runner passing me and so collected the gold medal. This was unexpected but welcome.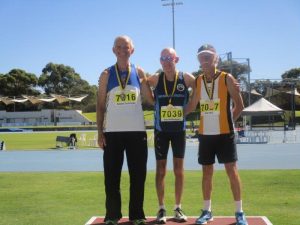 The 1500m the following morning was a gruelling run. Bruce Graham advised me before the race to not go out too fast but speed up after the first 50 seconds unless competitors were ahead of me before then. Well I followed his advice and kept my pace at 80% for the first 50m but found myself in fourth position already with others hot on my heels. So I sped up to catch the front runners. I caught the third runner after 30m but the second runner, Bob Hull, would not let me pass him and it took another 100m to edge in front of him. He then sat on my shoulder for the rest of the race until the final 100m sprint home during which I managed to keep him at bay for the silver medal in 5.55.39 (81.88%); another season's best. Don Mathewson, the fastest M70 in Australia and one of the top five in the world, easily won the gold medal in 5.23.27.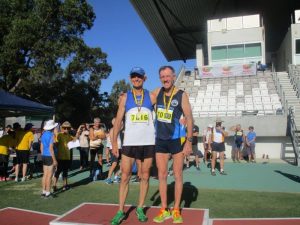 My favourite event is the 2000m short hurdle steeplechase, which I am reasonably good at and which attracts few competitors. This was held that Friday afternoon and seven M70 competitors had registered for the event. However, only two turned up at the start line, which was very disappointing. We ran at the same time as the M65 cohort so I had a few to chase. The race was uneventful and I did not run at full pace as I was not headed by the other M70 runner during the event. However, with 300m to go I spied Ron Schwebel (M65) 30m in front of me and decided to try and catch him. He had passed me on the finish line two years earlier in the same event. A sprint finish followed after the water jump and one more set of hurdles and I did catch him just before the line. Another Gold medal for me, in 9:36.88 (83.35%).
Saturday, day three, dawned and the 5000m race beckoned. I had a shocker with a season's worst time of 22.27.28 and was beaten by Bob Hull for fourth. I had just beaten him in the 1500m the day before. Don Mathewson 20.03.17 and Kevin Salomon 20.33.46 were both superb for first and second respectively. I certainly felt the effects of the 10,000m on day one during that race. I was bitterly disappointed with my effort.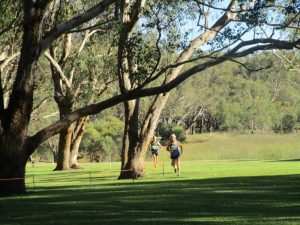 The 6km cross country event was held on the morning of day four and I was determined to do better. This time Jim Langford was at the starting line along with Don Mathewson, Bob Hull and John Walton, the last being a long time opponent whilst this was Bob Hull's first national championship and so was an unknown entity to me. Jim and Don had been long time opponents and each had beaten the other twice before today's race. Jim had beaten Ron Clarke in his time so he had a great pedigree. The course was two km long in the park at Perry Lakes, which was opposite the Athletics Stadium, and we needed to do three laps. Don took off at the start while I tried to hold myself back a little for the first 100m, as instructed. I was soon joined by Jim and we completed the first lap together in 8:08. This registered in my brain as going out too fast and I slowed down leaving Jim to chase Don alone. After three km I looked around to see who was around and there 20m behind me were Bob Hull and John Walton running together, which gave me a start. Obviously I had slowed too much and I tried to speed up again to stay ahead, which I managed to do for another lap. At about the 5km mark both Bob and John had closed the gap with me to some 10m and I tried to speed up still further. With 500m to go Bob was at my shoulder and tried to pass me but I refused to let him. I manage to kick away in the last 200m to win third place, in 25.42 (@ 4:17 pace, 82.36%) much to my relief. Don won in 23.54 and Jim was second in 24:51, Bob Hull was fourth in 25:55 while John Walton was fifth in 25:58.
Don, Jim and I will be competing in the World Masters Athletics Championships in Malaga, Spain in September and it is hoped that we together might win a team medal in the Cross Country race. I will restrict myself to three events at Malaga: 1500m, 2000m Steeplechase and the 6km Cross Country.
Two photos are attached: 2000m Steeplechase medal award ceremony and the cross country race course.
Robbie Costmeyer
Life member
14 May 2018